Did you ever observed that smart people (I mean really smart ones not fakers) will never say "I'm sure of…" this or that? Why is that?
Charles Darwin seem to come to a conclusion as he may have said:
"Ignorance more frequently begets confidence than does knowledge: it is those who know little, and not those who know much, who so positively assert that this or that problem will never be solved by science."
Here is a simple explanation, which describes the phenomena of the knowledge horizon. Imagine that all your knowledge is represented as the interior of a circle and the "unknown" as what lies outside of it. However you can't "see" outside of the circle, the only thing you see is the "margin" or "perimeter" of the circle. Anyone can "see" that there is "something" they do not know by measuring the "perimeter" of the circle.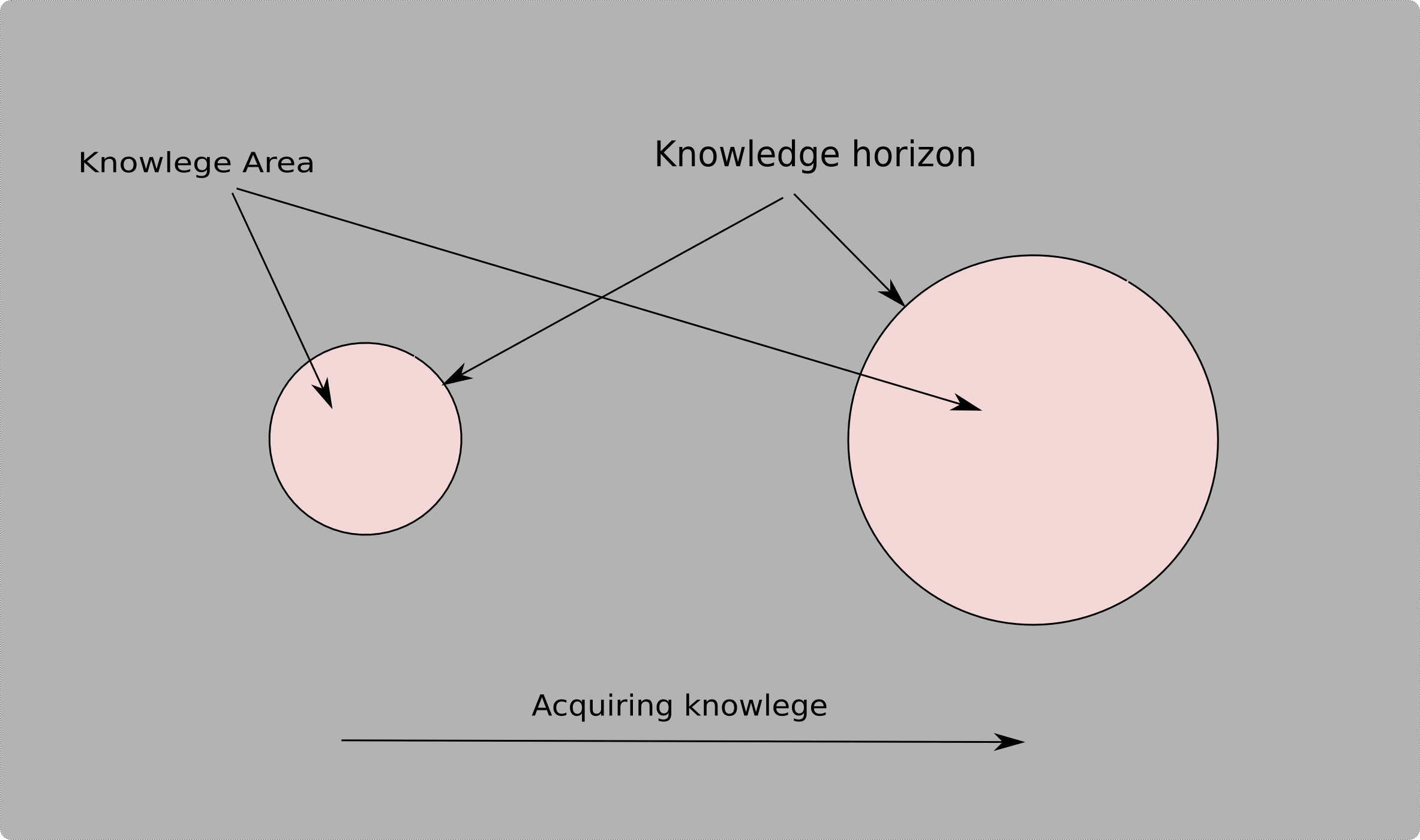 Now, here is the funny part. As you increase your knowledge, you have more information to store in your "circle". To store more you need to increase the diameter of the circle but if you do so you will increase automatically its perimeter. So, the more you know the more "unknown" you may be aware of. Unless you hit "the wall of all there is to know", which to my current knowledge never happened, you'll always know that there is potentially more than you do not know than what you know.
Another important clue is your focus on the known or unknown. People who advance their knowledge are the ones which focus on "the whole" circle both the interior of the circle (the known) or the perimeter "the unknown". Focusing only on the known will end in a stagnation of knowledge process and create "smart ignorant" people (yes, there is such ting).
So, it is impossible to be "humble" and say that "I know it all" at the same time because you really don't know it all. The focus on knowledge only and avoiding the unknown is also opposite to "humble" and  generates the phenomena I described above, the "smart ignorant" type.
Well, but there are a lot of people asserting that "they are sure" of things. Are they all ignorant? I think not. I guess too many times we are forced by the social pressure to behave as "we know it all" because most of us do not realize this simple principle of the "knowledge horizon" and push for "perfection" and people freak-out and give up and assert over confidence. The other explanation is that when people assert that "I'm sure of.." they actually fail to give a more precise expression "I'm sure of … with this error level" assuming the rest of us already know what they wish to say.
What can we as a group take out of this idea? We need to stop asking people to be "perfect" at all cost as no one is rally perfect. Pushing for perfection we will get in fact more imperfection wrapped in "perfect superficiality" or more blunt put BS.
In the end we are served with BS because we ask for it! (My article Fact Fiction and BS has some explanation on this…)